What's New At LMAS
Superior Health Foundation Breast Health Fund
Eligible breast cancer patients from all across the Upper Peninsula can apply for philanthropic grant funding/financial support to help minimize the out-of-pocket expenses for those who most need support for breast-care related bills, biopsies, procedures and ultrasound tests.
For more information about the BCC program, please contact:
LMAS District Health Department
Attn: Debbie Hoder
14150 Hamilton Lake Rd.
Newberry, MI 49868
(906) 293-1322 (phone)
(906) 293-5453 (fax)

National Public Health Week
It's National Public Health Week! From April 7th through the 13th, there will be a growing conversation about how to make America the healthiest nation in the world in just one generation. In order to reach this goal, preventive measures -- big and small -- will have to take place at every level: in families, neighborhoods, workplaces and schools. For more information, please visit http://NPHW.org.
Call 2-1-1
"2-1-1" is an easy-to-remember telephone number that connects people with important community services and volunteer opportunities.
Every hour of every day someone needs essential services such as assistance for a child, aging parent, or the entire family. Faced with the growing number of agencies and help-lines, individuals may have difficulty finding help because they do not know where to start or who to contact. U.P. 2-1-1 opens the door by providing easy access to needed information and assistance.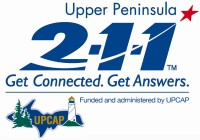 Their mission is to provide easy accessible, responsive, and professional information and assistance to Upper Peninsula citizens and families in need.
For more information on 2-1-1, click here:
2-1-1
---
LMAS Hours of Operation
Our offices are open Monday - Thursday from 8 AM - 4 PM. We are closed on Fridays.
We will also be closed on the following days:
Tuesday-Wednesday, December 24-25, 2013, Christmas Holiday
Tuesday-Wednesday, December 31, 2013 - January 1, 2014, New Years Holiday
Monday, February 17, 2014, Presidents Day
Monday, May 26, 2014, Memorial Day
Friday, July 4, 2014, Independence Day
Monday, September 1, 2014, Labor Day
Thursday, November 27, 2014, Thanksgiving Day
Wednesday-Thursday, December 24-25, 2014, Christmas Holiday
Wednesday-Thursday, December 31, 2014 - January 1, 2015, New Years Holiday


---